CANTEEN & CATERING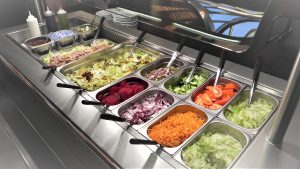 Welcome to the canteen of the APEEE  Service of Brussels I.
We prepare daily more than 2.700 school meals on site for all the pupils registered for the service.
Two cafeterias are available for secondary students.
Don't forget to read our rules of procedure  règlement EN
Enjoy your meal !
NEWS
COVID-19 ( 15-01-2021)
Dear Parents,
On behalf of the APEEE Services, we wish you all the best for 2021.
As of 18 January 2021 with the return to in situ learning (according to the different formulas), the functioning of the different services will be as follows.
Belgium remains in red code for schools. This ministerial note is being followed by the EEB1 School and this implies that the situation for the services remains the same as before the Christmas holidays.
Canteen (Uccle)
The canteen and cafeteria remain closed for Primary and Secondary school children, only meals for the Kindergarten are served according to the health standards in force.
Concerning the partial reimbursement of contributions, we will get back to you at the end of the school year after having obtained all the necessary elements to calculate a reimbursement percentage.
We thank you in advance for your patience.
COVID-19 ( 01-10-2020)
Dear parents,
In view of the uncertain and constantly changing situation we are experiencing today and in order to ensure sound budgetary management, we ask you to pay your subscription in full for the first half of the year. At this stage, we are not in a position to calculate any discounts for "COVID-19" absences.
We plan to adjust the amount for the 2nd half of the year (February to June 2021) based on the data recorded in the 1st half of the year. More detailed information will be communicated to you at the end of this semester.
We thank you in advance for your understanding.
Please take care of yourself