Two cafeterias are available for secondary students
Cafeteria Van Houtte : 4-5-6-7 secondary
Every day between 08:00 and 15.00
(Wednesday between 08:00 and 12:00)
Cafeteria Platon : 1-2-3 secondary
Every day between 10:30 and 13:30
(Wednesday between 10:30 and 12:00)
We offer a wide range of sandwiches, paninis, hot dogs, lasagna, pasta salads, rolls, fruit, dairy products, smoothies, juices, water, soft drinks and sweets in both cafeterias.
All our pastries are daily delivered and sandwiches are cooked on the spot and on the same day.
Here are a few varieties of products offered at breakfast to fill up on energy: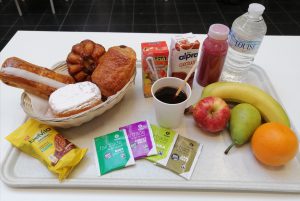 And other small dishes for a lunch on the go: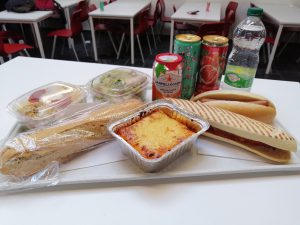 Cafeteria registration
Registration only if your child is not registered at the canteen and therefore does not have a key.
To order a key, go to the registration site https:.Bienvenue sur le site d'inscription en ligne de l'APEEE et l'APEEE Services | APEEE Services (uccleparents.org)
As soon as your child is registered you will receive an e-mail from our service with instructions on how to log in and load your key via the NETPAY platform.
Afterwards your child can collect the new key from the canteen manager (office at the back of the student canteen, Van Houtte building).
The key ordered will only be used for purchases in the cafeterias and will not give access to the canteen if the child is not registered there.
IMPORTANT REMARK IN CASE OF LOST KEY 
We would like to draw your attention to the problem that your child may face if he/she loses his/her digital canteen/cafeteria key. If your child loses his/her key, it is essential and urgent that he/she comes as soon as possible to inform the canteen office so that we can block his/her key in order to avoid that another student uses his/her key without his/her knowledge to make purchases in the cafeteria. The risk of key theft exists within the school. As long as your child does not inform us of the loss of his/her key, we unfortunately have no way of reimbursing the child after the theft.
We therefore ask you to inform your child about the need to react quickly in case of loss of a key by coming to inform the canteen office so that we can block his/her key until he/she buys a new one
We advise you to load his key with a minimum of 30 euros on a regular basis rather than 60 euros which can be stolen unexpectedly

New products in the Cafeteria (06/09/2019)
For several years, the Canteen team – parents and manager – has been working on the range of products offered in Secondary school cafeterias with the aim of eliminating as much as possible empty calories, ultra-processed products, bad fats, endocrine disrupters...and to offer products that are much more in line with the health of our children and of our planet.
Here are our guidelines:
less processed products
a broader range of organic products
daily preparation of salads, smoothies and sandwiches in our kitchen
replacement of PVC containers and packaging with biodegradable products
Almost complete elimination of all plastic products in the canteen and cafeterias
As from this new school year 2019-2020, some products will no longer be available in the cafeterias: Coca Cola, Lipton Ice Tea, Twix, etc. And others will be available: sparkling apple juice, flavoured water, grissini, dried fruit, etc.
These changes are a great opportunity to encourage your children to pay attention to their nutrition and switch to healthier products when they are at school.
We are also in the final phase of installing an electronic payment system in the two Secondary school cafeterias, which will result in enormous progress in terms of speed and hygiene. Implementation is expected for January 2020.