Menus of the current period
menu du 27 juin au 30 juin 2022
menu du 27 juin au 30 juin Fabiola 2022
menu du 30 mai au 24 juin 2022
menu du 30 mai au 24 juin Fabiola 2022
Instagram: APEEE Services 1 cantine (@apeeeservices1cantine) • Photos et vidéos Instagram
Facebook: Cantine de l'APEEE Services Bruxelles 1 | Facebook
Legend of our 14 allergens: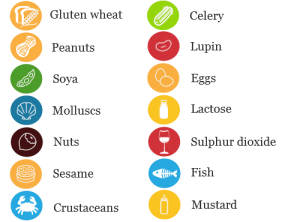 Cereals containing gluten and cereal products: wheat, rye, oats, spelt, kamut (an old variety of durum wheat) or their hybridised strains.
Crustaceans and crustacean products.
Eggs and egg products (lysozyme, an enzyme produced from eggs used in wine and as a food additive E1105; albumin produced from eggs used as a clarifying agent in wine and cider). Please note! Egg or its derivatives can be present in surprising places such as preserved mushrooms, meat, lemonade or chicory, food gelatine...
Fish and fish products (such as fish gelatine used as an aroma carrier).
Peanuts and peanut products.
Soya and soya products. The legume transformed into oil is also found as an emulsifier (lecithin E322).
Milk and milk-based products (including lactose).
Nuts (almonds, hazelnuts and also walnuts, cashew nuts, pecans, macadamia nuts, Brazil nuts, Queensland nuts, pistachios) and products made from these fruits.
Mustard and mustard products (essential oil of mustard and mustard seeds, mustard seed oleoresin). Mustard can be found in vinegar, chutney, pickled vegetables or pickles, and also colonizes cheese, ketchup, spice mixes or sausages!
Celery and mustard products (essential oil from celery leaves and seeds, celery seed oleoresin). This herbaceous plant can be used in court-bouillon, herb cheese, canned meat or fish, prepared burgers, vinaigrette sauces, certain liqueurs or brandy, powdered condiments.
Sesame seeds and sesame products.
Lupin and lupin products. This legume is mainly used in the form of flour in bakery and pastry making for its multiple nutritional and technological qualities: it improves the colour, texture and taste of products.
Molluscs and shellfish products.
Sulphur dioxide (sulphur dioxide) and sulphites in concentrations of more than 10 mg/kg or 10 mg/l. Sulphur dioxide is used as a food additive (E220).
Information on allergens in the foods we serve.
The APEEE canteen service takes food allergies very seriously. We are aware that an increasing number of people suffer from such allergies and we are committed to providing our canteen and cafeteria users with the information they need to know whether or not they can eat a particular dish.
The canteen menu available on the website of the APEEE Service displays the allergens present in each menu, so that parents can periodically review upcoming meals with their children to advise them what they should avoid eating.
For pre-packaged items sold in the canteen or cafeteria, allergens will be in bold in the list of ingredients printed on the packaging itself. Ask your child to check the package before opening and eating the contents.
Risk of cross-contamination
Although we do our utmost to avoid cross-contamination of allergens by keeping ingredients separate and work surfaces constantly clean, such a risk cannot be completely eliminated. We must therefore inform you of this slight risk.
Our kitchens operate in full compliance with Belgian legislation and are regularly inspected by external bodies. Our allergen policy complies with the Belgian legislation contained in the Royal Decree of 17 July 2014.
For the time being, it is impossible for us to draw up menus that take into account diets or allergies.
Durable Kitchen

Changes are gradually being made towards healthier food, both for its users and for the planet:
More fresh seasonal fruit for dessert.
More vegetables, giving preference to fresh vegetables (as opposed to canned and frozen).
Less fat and the total elimination of hydrogenated fats.
Use of lactose-free cream in the preparation of our meals
Introduction of the daily vegePriority given to seasonal and local products. Introduction of certain organic products.
Almost complete elimination of all plastic products in the canteen and cafeterias
Reduction of waste: the canteen donates products that it can no longer serve to the children to the CPAS of Uccle. These are mainly unused dairy products and desserts that the association comes to collect on a weekly basis.  At the same time, the canteen works together with the primary school teachers to raise awareness among the pupils to better fight against food waste
In order to taste the meals in our canteen by yourself, parents whose children are enrolled are cordially invited to take a meal, free of charge (one per semester and per family), by announcing themselves at the canteen office.