Swimming lessons - CESAME
A separate swimming module allows pupils from the European schools of Laeken, Woluwé and Ixelles to register. We would like to point out that only these pupils do not have to pay the APEEE fee.
VUB: For ESB1 and ESB2 groups only, the schedule will change from 5.30 p.m. to 7.00 p.m. from Friday 26/11/2021 to Friday 11/03/2022 inclusive.
School Year 2021-2022
Enrolment

(from 5 years old)
Registration starts in 2021-2022
ESB member swimmers » : 2 September 2021 at 9:00 am
Other swimmers » : 7 September 2021 at 9:00 am
Start and end dates 2021-2022
Start: The week of  27 September 2021
End: Last class on the 20 June 2022 inclusive (after this date, no more classes will be given)
How to register your child ?
Log in to your APEEE parent account via the registration :  www.services.uccleparents.org and create a swimming order
Check if the information in your profile is still up to date and change it if necessary.
If your child is enrolled at the other European School of Brussels , it is necessary to create a parent account on the website: www.service.uccleparent.org in order to place your order.

(In this case, the APEEE fee of 50 euros will not be counted)
In which level to register your child ?
If your child is a new swimmer

(who has never been enrolled in our classes): We are unable to organise tests under the current health conditions. Please read the descriptions of the different levels in order to register your child/ren.

If your child has already taken part in the Cesame swimming course

: Registration in the same level as in 2019-2020 unless special circumstances (growth of the child, swimming course or training in another club) justify a change of level.
Places will be allocated on "a first come first served" basis.
Once registered
Once you have registered, you will receive a confirmation e-mail indicating that your order is either

In process

: Your registration is being analysed

Waiting for payment:

The registration is validated. We are waiting for your payment to confirm your order

Accepted:

The service has received your payment and the order is confirmed.

Refused/Cancelled

: Order cancelled by us or at your request.

Please note:

Make your payment only when your status is "awaiting payment".
If  a course is full, you can still put your child on a waiting list by sending an e-mail to natation.cesame@uccleparents.org. If a place becomes available, we will automatically get back to you by phone or e-mail
You can check the availability of courses via your APEEE parent account.
In case of "force majeure" leading to the cessation or suspension of one or more of our association's services, the APEEE Services will not be obliged to reimburse the full amount of the subscriptions and will reimburse on a pro rata basis the sessions/meals/activities not provided once the fixed charges have been deducted at the end of the school year. The reimbursement will not therefore be 100%. "
Programme and rules



Transport to the swimming pools - Bus
Only pupils from Uccle can use the school bus - No return from the pools to the school!

Attention

: There is no bus on Wednesday afternoons to the VUB swimming pool

Pupils of the European School of Uccle, who are not registered for school transport

and want to use this service to go to the swimming pool, must register for transport   formulaire-transport  and pay a fee of 130€.
Please inform the transport service if your child/children use another bus on the days concerned by the swimming lessons
Closing days for swimming pools 2021-2022
Enclosed

you will find all the dates of closure of the swimming pools - Available in September 2021

If you would like further information, please contact Mr Rizzo at the Césame office on 02.375.31.35 or by email   natation.cesame@uccleparents.org
SWIMMING TEAM - ESB OCTOPUS 2021-2022
Registrations to ESB Octopus, season 2021-2022 ! Registrations open !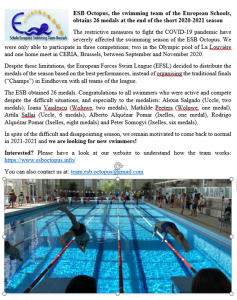 Are you between 5 and 19 years old and able to swim at least 50 m in two different strokes?
Do you want to represent the five European Schools of Brussels in international swimming competitions?
If you have answered yes to both questions, you can now join ESB Octopus, the swimming team of the four European Schools of Brussels. Created in 1984 and with more than 60 swimmers of all ages, the ESB participates in the "European Forces Swimming League" (EFSL), together with teams spread over most of Western Europe at NATO and American bases. Most competitions are held in Benelux, but there are also travels abroad .
Interested? You can find more information at www.esboctopus.info or please send an e-mail for more information (and registration) at: team.esb.octopus@gmail.com