Activities for secondary
School year 2021-2022
registration begins: Monday 20 September at 12:00 pm
start of activities: Monday 27 September
Programme secondaire 2021-2022
Please note that registration for the musical is already open as this activity starts on September 15
Warning: if you register for an activity and then decide to cancel it once the activities have started, we will ask you to pay a minimum fee or even the entire contribution depending on the period you inform us of your decision. See our rules for the conditions applicable in the event of cancellation.
For Wenesdays' afternoons :
For students aged from 9 to 16 years old:Musical theatre workshop from 1:30 to 3:30 pm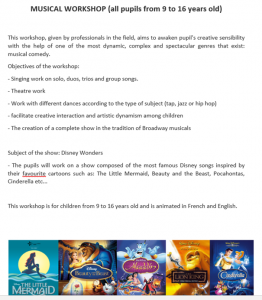 Dates: The workshop will take place from Wednesday 16 September 2020 to Wednesday 16 June 2021 inclusive
Fee: 399€ (for 33 lessons)
Enrolment: by email from now at Césame's office
In addition, we propose
Hot meal in the canteen: 205€ (33 meals)
A childcare service from 3:30 to 5:00 pm: 135€
Attention: this activity and the related services will be set up subject to a minimum number of participants !
For secondary school students, and onlyfor these students, we apply the "first come, first served" principle. A confirmed order is a commitment ! We offer you the opportunity to try activities during 2 weeks, take advantage of this time to reflect before signing-up.