"EURÊKA" is a service that allows students to Brussels I to find, to the extent possible, their lost items, thanks to the volunteer work of some parents dedicating some of their time to collect, assemble, sort and inventory lost items and ensuring a weekly disposal thereof to those who lost them.
Here are EURÊKA's opening hours:
Every Thursday from 11:30 to 14:00
Every Friday from 11:30 to 13:30
What can you find in EURÊKA?
In EURÊKA one finds clothing and sports equipment* lost by primary and secondary students at the Uccle site.
For valuables (watches, mobile phones, sunglasses, keys, wallets ...) or school material (books, notebooks, calculators ...) please check with the following persons:
- For primary, Secretariat MAT/PRI (office ERASME S.0.02);
- For secondary, Mr. Paulet (office: Plato, R232) - or whoever holds that office.
* The sports equipment (school T-shirts, navy blue shorts, gym shoes) without readable name on them (that is to say outside of a bag) are washed by volunteers and are sold second-hand at a price of EUR2, obviously without warranty of stock.... The money collected is used for the functioning of Eurêka: primarily for the purchase of printer cartridges to print the weekly lists and the purchase of anti-moisture refills.
Where?
EURÊKA is located in the basement of the Erasmus building. You may access it via the "Castle" staircase (see map below).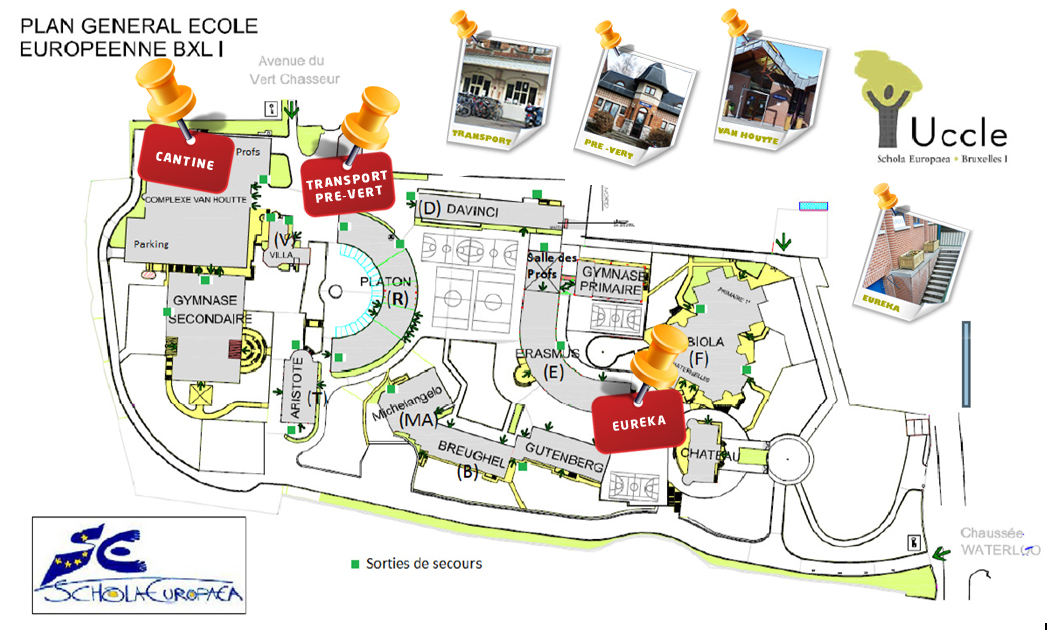 And Berkendael?
The lost objects at Berkendael are kept at the porter's lodge of Berkendael for 6 months. The unnamed items are subsequently moved to the Eurêka site in Uccle.