Two cafeterias are available for secondary students
Cafeteria Van Houtte : 4-5-6-7 secondary
Every day between 08:00 and 14:15
(Wednesday between 08:00 and 12:00)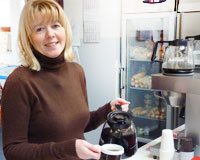 Cafeteria Platon : 1-2-3 secondary
Every day between 10:30 and 13:30
(Wednesday between 10:30 and 12:00)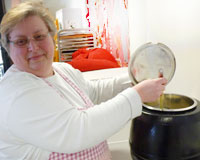 We propose in both cafeterias a wide range of sandwiches, paninis, hot dogs, pizzas, bread rolls, fruits, dairy products, fruit juices, water, soft drinks and snacks.
All our cakes and sandwiches are cooked on the spot and on the same day.
If you want to check the price list of the cafeterias
liste_des_prix_cafet_sept_2019_v1

New products in the Cafeteria

(06/09/2019)
For several years, the Canteen team – parents and manager – has been working on the range of products offered in Secondary school cafeterias with the aim of eliminating as much as possible empty calories, ultra-processed products, bad fats, endocrine disrupters...and to offer products that are much more in line with the health of our children and of our planet.
Here are our guidelines:
less processed products
a broader range of organic products
daily preparation of salads, smoothies and sandwiches in our kitchen
replacement of PVC containers and packaging with biodegradable products
As from this new school year 2019-2020, some products will no longer be available in the cafeterias: Coca Cola, Lipton Ice Tea, Twix, etc. And others will be available: sparkling apple juice, flavoured water, grissini, dried fruit, etc.
These changes are a great opportunity to encourage your children to pay attention to their nutrition and switch to healthier products when they are at school.
We are also in the final phase of installing an electronic payment system in the two Secondary school cafeterias, which will result in enormous progress in terms of speed and hygiene. Implementation is expected for January 2020.