ALL SAINTS CAMPS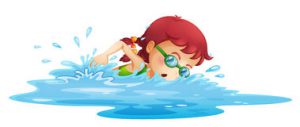 Vidéo
Opera capture club convoque pour son stage de la Toussaint , la figure de la sorcière. Rangez vos verrues et vos balais et vos pommes empoisonnées.
Au sein du Cinéma Galeries, dans ses recoins souterrains nous étudierons au delà des images que nous connaissons déjà.
Il existe trois types de sorcières : celle qui pratique, celle qui est qualifiée ( par le judiciaire, les institutions religieuse ou l'opinion publique ) et celle qui s'autoproclame sans pour autant pratiquer la sorcellerie.
Accompagnés d'un corpus de vidéos d'archives ou documentaires, nous allons décomposer les mythes, afin d'écrire collectivement une performance-vidéo autour de la Métaphore de la sorcière, présentée au public le vendredi 2 novembre à 17h.
Travail du corps, danse et transe, de la voix et des esprits au programme - Vidéo et Live !
NOTABENE !! LE STAGE EST OUVERT AUX GARÇONS!!!! ET RECOMMANDé!!
Inscriptions ouvertes, sortez vos grimoires. 10 places disponibles.
Contact : Operacpatureclub123@gmail.com
Site :https://opera-capture-club.org/
 Du Lundi 29 Octobre - Vendredi 2 Novembre de 9h-16h (Jeudi 1 Novembre fermé, fêtons nos morts)
120€ / garderie possible jusqu'à 17h
CINEMA GALERIES : Galerie de la reine 26 , 1000 Bruxelles
Couture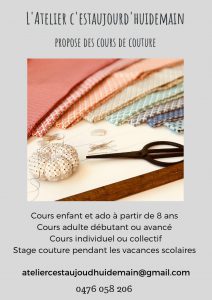 The Big Band needs new musicians
You have a minimum of musical experience, you want to play or discover Jazz music and participate in a good musical project, in a relaxed atmosphere ...! Every Monday at 4:00 p.m. - M2

Instruments sought :  Bass, Saxophone, Trumpet, Trombone.
Contact : Mr Cupper – M3 –
Email : cupperal@teacher.eursc.eu
ACTIVITY ON SATURDAY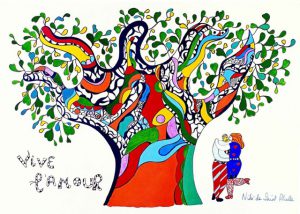 A teacher of Césame, Fanny Seller, proposes  activity "yoga et créativité" on Saturday from 10:30 am to 12:00 pm. The 1st class will take place the 29th of October in the room "studio Vibration" on the 1st floor, rue Lesbroussart, n°108 - 1050 BXL.
To get more information Yoga et Créativité infos
THE CHAMBER ORCHESTRA "Strings for Europe" is looking for new members
More informations : Strings for Europe
Pleasure and reading, in the land of prerequisites...
Dates: 4, 5 and 6 July 2018
Schedule: 9h00 to 12h00
For whom? : Children from 5 to 8 years old.
Location: Mathémô, 39 Rue de l Etoile, 1180 Uccle
Info and registration:
Chiara Galasso, Speech therapist, +32 (0)479 84 25 50, chiara.g@mathemo.org
or Laura Slinger, +32 (0)473 54 79 59, laura.s@mathemo.org
Discovering my mental gestures
How do you learn? What is it to be attentive? How do you get to know me?
Dates: 9-12 July 2018
Schedule: 9h00 to 13h00
For whom ?: Children from 9 to 13 years old.
Price: 170 € for non-members, 145 € for members.
Location: 346 Chaussée de Neertalle, 1190 Forest
Info and registration: Alicia Monticelli, Trained Neuropsychologist, +32 (0)474 43 52 49
Oral language and mathematics; strenghtening the prerequisites for better thinking
Because the thought is done in images and in words, because reasoning camps on the logic and the interior speech, because to think is done on good bases, because to combine, to seek, to discover, to invent always accompanies the mathematical spirit ...
Dates: 9-13 July 2018
Schedule: 9h00 to 13h30
Location: Mathémô, 39 Rue de l Etoile, 1180 Uccle
Price: 200 € for non members, 180 € for members.
Infos and registrations: Laurence Ruyssen, +32 (0)476 37 89 73 and Audrey Rabillon, +32 (0)499 23 74 58, Speech therapists