Broadway School's end-of-year show with the 2019 class of students
on June 1st at the St Gilles Cultural Centre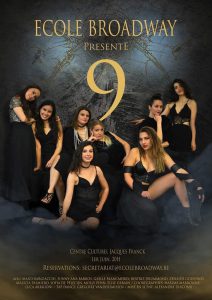 CESAME'S PARTY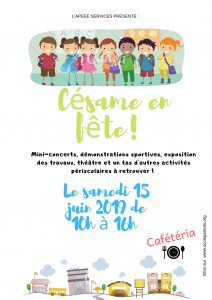 Césame's Party will be back on Saturday, 15 June (from 10:00am to 4:00 pm)  after a three-year break. On this occasion, you will be able to attend demonstrations of sports activities and dance workshops, discover the exhibition of artistic works, but also see the shows of the theatre groups and meet the instructors of the various activities. A small cafeteria will be organised.
Registration for the event can be done via a link Eventbrite and is mandatory for all parents and adults wishing to participate. Please contact Césame office to get this link
Attention : No access to the school will be possible for parents who are not registered.
See
documents below to discover the programme of the day
ORCHESTRA AUDITION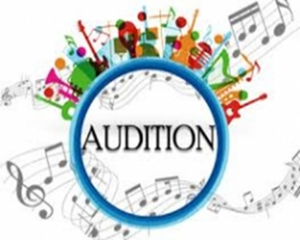 When ? Friday, 14 June from 12:00 to 2:30 pm
Where ? room M5
How to apply ? See document : AFFICHE AUDITION EN JUNE 2019
CAMPS ASCENSION AND SUMMER 2019
SWIMMING CAMPS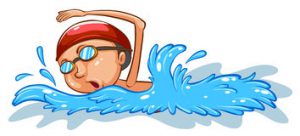 Azam, teacher of Césame, proposes a swimming camp from the 27th to the 31st of May :  swimming camps Ascension 2019
EXPERIENCING ENTREPRENEURSHIP

Our mission is to contribute to tomorrow's entrepreneurial growth by shaping today's entrepreneurship mindset.
We help the younger generation to channel entrepreneurially their own innovative solutions by organizing and executing experiential workshops that make kids understand how entrepreneurs think, talk and act.
We believe that only by embracing the "culture of failing" through the application of methodologies of trial and error, can we develop concrete and sustainable entrepreneurial success.
Programmes of 5 days for youngs from 12  16 ans for the following periods:
Easter 2019 from 8 to 12 April
Summer 1 from 1 to 5 July
Summer 2 from 26 to 30 August
More information : https://www.flopacademy.com/en/flopacademy/
ASBL MATHEMO 
Mathémô proposes stages été 2019 liste
Centre pluridisciplinaire Mathémô  - 39 rue de l'étoile- 1180 Uccle ou 346 Chaussée de Neerstalle-1190 Forest
Site : www.mathemo.org
Mail : info@mathemo.org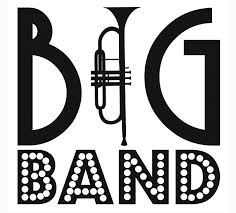 The Big Band needs new musicians
You have a minimum of musical experience, you want to play or discover Jazz music and participate in a good musical project, in a relaxed atmosphere ...! Every Monday at 4:00 p.m. - M2

Instruments sought :  Bass, Saxophone, Trumpet, Trombone.
Contact : Mr Cupper – M3 –
Email : cupperal@teacher.eursc.eu
ACTIVITY ON SATURDAY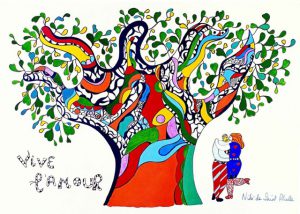 A teacher of Césame, Fanny Seller, proposes  activity "yoga et créativité" on Saturday from 10:30 am to 12:00 pm. The 1st class will take place the 29th of October in the room "studio Vibration" on the 1st floor, rue Lesbroussart, n°108 - 1050 BXL.
To get more information Yoga et Créativité infos
DRAWING AND PAINTING COURSES FOR TEENAGERS