HIGHER EDUCATION EVENTS AT THE BRITISH SCHOOL OF BRUSSELS 2018 

(07/09/2018)
Dear S5-S7 Parents,
For those of you with children interested in attending UK, US or Canadian universities or who just need general information about study possibilities in Europe, you are warmly invited to several information events scheduled to take place at the British School of Brussels:
on Thursday 18 September 2018
Oxbridge Information Evening
on Monday 1 October 2018
Brussels College Night (EducationUSA)
on Monday 8 October 2018
Canadian Universities Information Evening
on Wednesday 24 October 2018
BSB University Fair (UK and European universities)
See poster for more information.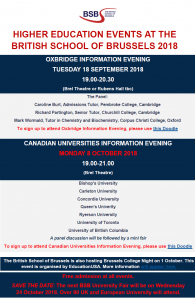 If you are interested in attending, please pre-register on the Doodle forms which are linked from the poster.

CONFERENCE: ALCOHOL, TOBACCO, DRUG PREVENTION

(11/03/2018)
On Monday 19th March 2018, from 1 pm to 3 pm.
By Richard Maillet, president of Stop à la Drogue.
Please see all information about this conference in the message sent by the APEEE on 02/03/2018.
Webstreaming link (available until Friday 23 March): please click here (in French only).

BETTER ARM CHILDREN AGAINST BULLYING - CONFERENCE

(09/02/2018)
(Tuesday 6 February 2018, from noon to 2 pm.)
Don't hesitate to go to the website of Emmanuelle Piquet (please click here) or to follow another conference on YouTube (please click here).