The APEEE does  not check the content of the adverts. The APEEE accepts no responsibility for the accuracy of information contained in these adverts.The APEEE cannot in any way be held responsible should problems arising during a transaction between two users resulting from an advert on its site.

HIGHER EDUCATION EVENTS AT THE BRITISH SCHOOL OF BRUSSELS 2018 

(04/10/2018)
Dear S5-S7 Parents,
For those of you with children interested in attending UK, US or Canadian universities or who just need general information about study possibilities in Europe, you are warmly invited to several information events scheduled to take place at the British School of Brussels:
on Thursday 18 September 2018
Oxbridge Information Evening
on Monday 1 October 2018
Brussels College Night (EducationUSA)
See poster for more information.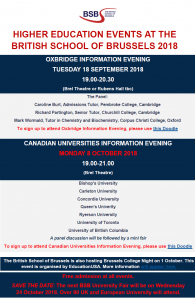 If you are interested in attending, please pre-register on the Doodle forms which are linked from the poster.