INFO
INFO
Dear parents,
Buses will have at least 30 MIN of DELAY!
The Bois de la Cambre is CLOSED!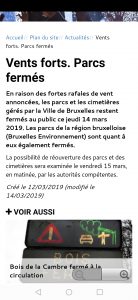 Information provided by the City of Brussels (stay informed via the mobile application "Ville de Bruxelles")
14/03/2019
Dear parents,
This will have for consequences major traffic disruption in Brussels.
We inform you that important delays are to be expected.
Unfortunately, we can't define them in advance : 15 min - 30 min - etc.
Delays will depend among : Time to get out of the school through Ch. de Waterloo/Ch. de la Hulpe/ others + Flow Time to reach from Uccle your area.
Therefore, please be patient and wait as usually at your bus stop.
Besides, we invite you to have a look on traffic applications like ex: WAZE , to keep yourself informed of the traffic in Brussels.
Thanks in advance for your understanding,
Transport Team.
PS: Not to congest our lines, please contact us only in case of emergency.

07/03/2019
Please note that weather conditions, road conditions and traffic can cause significant delays.
We will inform you daily of the status of the Snow Plan: "ACTIVE" or "INACTIVE".
Our communication will be mainly via our website, or by SMS.
It is therefore imperative that you visit our website regularly to be informed of potential changes.
In case of snow and/or ice, there are several possibilities: please find the procedures below.
Please check your contact details (e-mail address, mobile phone number) in your private space.
A list of alternative stops in case of snow has been updated on our website for information on each bus.
Thank you for your cooperation,
Transport Service
22/01/2019
Dear parents,
Depending on the winter weather, the bus routes of the transport service may be subject to changes.
3 scenarios can be presented, with their respective solutions :
Light snowfall : the transport will adopt the " SNOW TRACKS "
A lot of snow and/or black ice: the transport will adopt the " EXTRA-SNOW & ICE TRACKS "
When weather conditions are such that it is not safe to provide transport: there will be NO SCHOOL TRANSPORT.
The information shall appear on the home page of our site: http://www.uccleparents.org/?&lang=en
The set up Tracks will already be indicated on the banner of the home page.
Click on it or on the Transport service page, you will find more information and in particular the bus routes adapted for wintry conditions (please don't forget to log in!) :
Uccle site: heading "Winter Schedules – Snow Tracks" or "Winter Schedules - Extra-snow & Ice Tracks".
Berkendael site: heading "Winter Schedules – Snow Tracks" or "Winter Schedules - Extra-snow & Ice Tracks".
We ask you to FREQUENTLY consult the APEEE site in order to check the route which will be used by the bus:
The evening before: the transport service shall post the information, if possible by 6 P.M.
The same morning: before your children leave the house, in case of sudden changes or unforeseen weather.
In early afternoon : for afternoon departures from school.
Please take time today to familiarize yourself with these transport service pages.
Best regards,
The Transport service
11/12/2018
Swimming Pool buses are ready, please visit Uccle's page.
18/09/2018
Dear Parents,
We hope you and your children had a great summer.
The new school year is fast approaching.
To be prepared for the back-to-school and the first days of school :
We invite you to consult the APEEE services

registration website

   to familiarize yourself with the various arrangements and/or to ensure yourself that your orders are in order.
Please CHECK that your Transport order is under TREATED Status.  

If not, please validate your order or

contact us.

Please have a look to your bus line and schedule. You can fin it below :
               UCCLE : Schedules and Bus tracks HERE.
              BERKENDAEL : Schedules and Bus tracks HERE.
Pass on the information to your child : bus line, bus number on friday, schedules of the morning and the afternoon, and for the youngest: FILL IN THEIR AGENDA WITH THE DATA
Do not hesitate to contact us if you need any complementary information.
Transport Team
18/09/2018
Dear Parents,
We are pleased to announce that the APEEE Services has migrated to a new registration platform.
This new registration site is open since April 18, 2018.
If you have an urgent request, do not hesitate to contact us by email.
Thank you in advance for your collaboration,
The Transport Team
7/06/2018
Transport School Calendar



Find the new 2018-2019 Calendar  of the Transport service  for UCCLE and for BERKENDAEL!
FAQs or Frequently Asked Questions
A question? Searching for an answer? Rendez-vous on our FAQs
You did not find what you needed? Contact us