Laptops for eLearning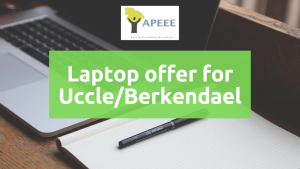 MESSAGE FROM INFORGIX, THE LAPTOP SUPPLIER, ON DELAYS IN DELIVERIES 

(19/10/2020)
There is a major problem with the delivery of the laptops. We are confronted with a worldwide stock and supply shortage.
The manufacturers are not able to construct the high demand for machines on time. Some delivery times amount to 4-5 months. This is not only a problem for us, but that of all the resellers and distributors in the world.
We are doing everything we can to find hidden stock and serve our clients. Unfortunately, this is a very difficult and time consuming task.
We are currently looking for suitable devices on the European market and hope to find some in order to be able to help out the parents. For the moment, only AZERTY and QWERTY keyboards are available.
Once we find the laptops, we will deliver them within 3 days. If we find a suitable alternative, we will propose them to the  parents inmediately.
We realise all this is a big issue for the parents/students. Inforgix apologises for all the inconvenience this difficult situation has caused them.
In April 2020, the APEEE was concerned about the availability of laptops for distance learning, and made an offer sourced from Inforgix, a Belgian IT company specialised in hardware, software and services suitable for Education. This company gave us a good service. It now offers a range of laptops, most importantly for us with keyboards and installation in all languages, together with a back-up service.
Unlike other Brussels European Schools, our school has not yet established a 'bring your own device' policy. Nevertheless, given the increase in the use of TEAMS and other learning programmes, e.g. Geogebra, it is clear that eLearning in some form is here to stay. Thus, we have chosen to link interested families who need help selecting a laptop for their pupils with Inforgix.
You can contact Inforgix directly: hello@byod-school.eu
Of course, you are free to choose your own vendor. The APEEE takes no responsibility other than communicating the offer.
The prices quoted for EEB1 include delivery to your home address. Delivery times vary for keyboards other than AZERTY. Please address all queries about your order to the supplier.
Offer Received from INFORGIX
Distance learning is more important than ever. The COVID-19 crisis taught us that education technology is essential for a modern quality education.
Inforgix is a Lenovo, HP and Microsoft Certified Education Partner. This privileged partnership offers the opportunity for you to order a variety of high-quality laptops appropriate for Education at preferential rates exclusive for schools.
You can see the suggested products, order and pay them directly in the webshop which was developed solely for orders linked to the school:
Benefits:
Solid and durable "A" laptops, submitted to the most extreme tests
Preferential prices exclusive for schools
Direct purchase via the webshop uccle.byod-school.eu or berkendael.byod-school.eu (payment with credit card or Bancontact), delivery at an address of choice in Belgium.
Keyboard and installation language chosen by the student
All models support Microsoft Office 365, with tools such as Teams, OneNote, Sway, OneDrive, Sharepoint, Minecraft for Education etc., and with anti-virus protection
All models support Geogebra, the system currently selected to replace graphing calculators in upper-secondary maths
A laptop that is always up and running 100% of the time due to the extended service plan: possibility to have your device repaired at school or at home (in Belgium) by a certified technician, up to 3 year warranty, battery included
Insurance (maximum liability 100 EUR) in case of theft or non-covered damage
Personalised device: Name of the student + chosen logo from our database engraved in the laptop (included in the price of the laptop)
Protection sleeve
Helpdesk for warranty management and FAQ
Last update: 19/10/2020