Community Building Working Group
Coordinator: Samantha CHAITKIN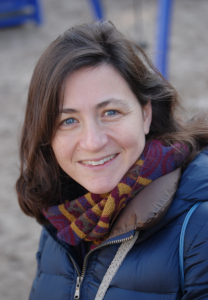 Samantha Chaitkin, Coordinator of the APEEE's Community Building Working Group
The Community Building and Solidarity Working Group (CBSWG) was founded in 2015 as an organ of the APEEE that examines and enables initiatives to increase the sense of community, mutual respect and school "ownership" among students, school staff and parents. The group mobilises APEEE financing, organises or promotes activities, or raises awareness about values including, but not limited to: solidarity, sustainability, respect, team spirit, belonging.
Beyond the wish to add value and values to the school environment, it was also considered that disinterest and negative views of school, peers and colleagues may be at the root of some risky behaviors exhibited by students (including for example vandalism, harassment, addictions).
General Scope of Activity: Currently, the activities of the CBSWG are organised under the following areas:
Solidarity and charitable actions
Green school and sustainability
Free time / free spaces (FT/FS)
particularly issues related to the school's physical/built environment
School events and parties
including but not limited to the Fete de l'Ecole
School image campaigns
including sweatshirts, NewsFlash, Facebook, and more...
Outreach
including welcome initiatives for new students and their families, teacher appreciation, student committee liaison
Community-member-driven projects involving a community building objective
including the Student Values Workshops with the Bien Etre group; the Francis Pirotta Creative Arts Prize; Climate Neutral European School; ES School Events, such as EUROSPORT, MUNUccle, FAMES and ESSS
Participation and Working Methods: The group accepts members from the APEEE Board and broader parent community who are interested in forging ties and have time to commit to one or more of the CBSWG activities. The group meets three to four times a year in order to coordinate activities. Most communication take place via email, though face-to-face meetings of subgroups or initiatives can also be organised. The CBSWG may also take meetings with members of the extended school community and periodically reports back to the Board. Members are encouraged to participate in one or more of the CBSWG's seven areas of activity.
If you are interested in one or more of these activities, please contact our Secretariat at: info@uccleparents.org

Mandate of the APEEE's Community Building Working Group (January 2021)


Future of the Community Building Working Group (January 2020)
2020 Priorities
The activities we have planned for 2020 include:
Free Time /Free Space (FT/FS): Working with the Student Committee (CdE) and the management on improving indoor and outdoor campus spaces where students can spend their free time positively; working to create an eco-friendly and healthy environment for pupils.
Green School Initiatives: Funding and promoting initiatives that have an environmental orientation and teach kids about sustainable living.
Francis Pirotta Creative Arts Prize: Working with the family of Francis Pirotta and the Primary Teaching Team to continue to honour young Francis, who sadly passed away in May 2018, with an annual primary class-project art competition and award.
Values Project: Continuing to work with the APEEE Bien-Etre WG to host talks for teens across the secondary on relevant topics for today's youth.
Outreach: Welcome activities in the first days of September to better orient new families and greet returning families; teacher appreciation activities.
Primary Sweatshirt Sales: Piloting online ordering system for primary school sweatshirts.
School Events Publicity: Collaborating with the APEEE Communication Team to publicise activities undertaken by the school in the APEEE Newsflash.
Support for Projects/Initiatives: Contributing to APEEE Project Funding Calls by vetting proposed projects and serving on award panel; help oversee key community building project implementation.
Fête: Coordinating parent contributions to the Fete (e.g. Food, Sport and other activities) through the Fete Committee. (postponed)