EURÊKA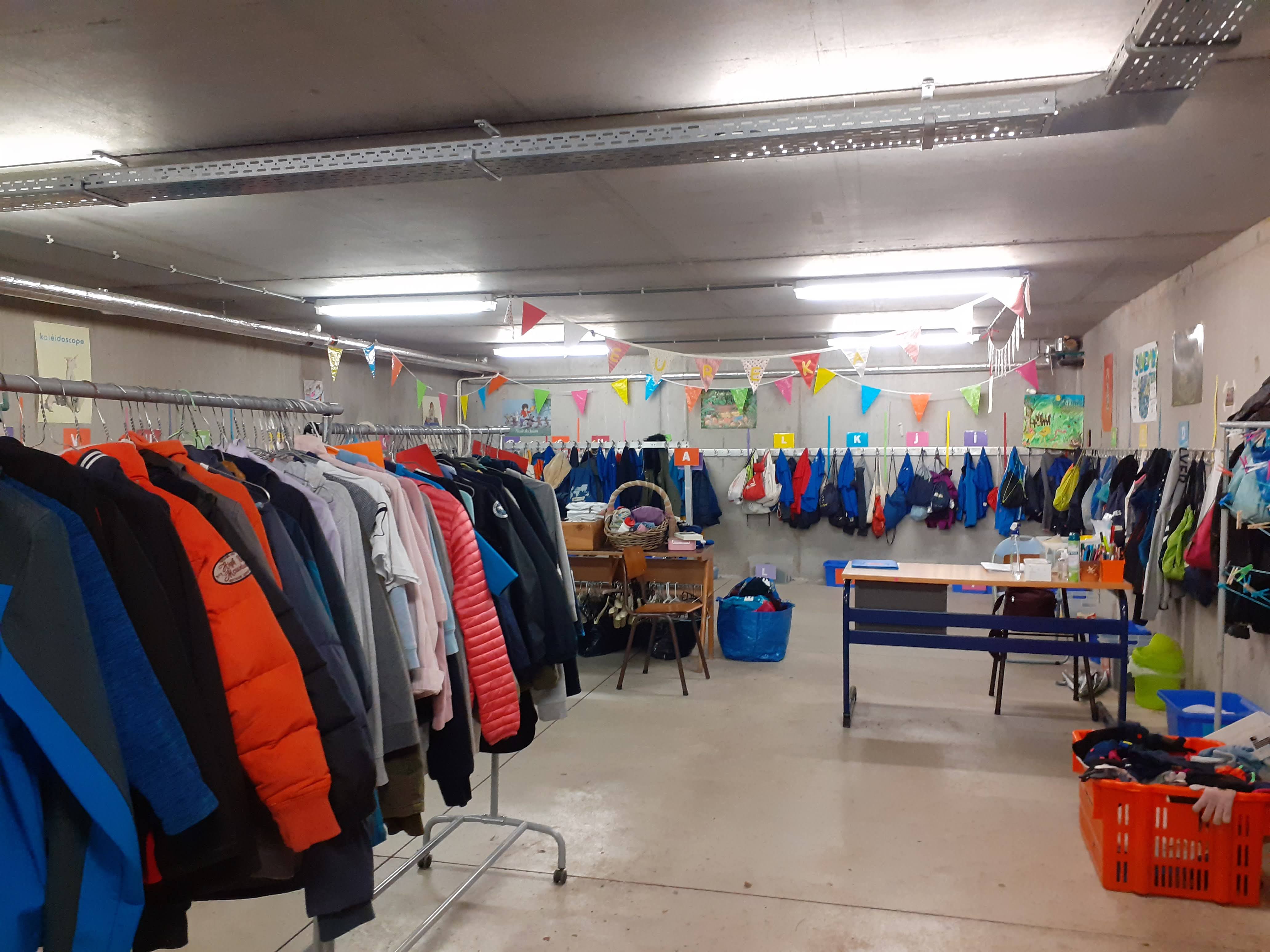 EURÊKA is a lost-and-found service that allows students at Uccle to find, whenever possible, their lost items, thanks to the volunteer work of parents dedicating their time to collect, assemble, sort and inventory lost items and to ensure distribution to the students who lost them.
EURÊKA's opening hours (for Students and Teachers only, not Parents):
APRIL
Thursday 22/04/2021: 11.30-14.15
Thursday 29/4/2021: 11.30-14.15
Friday 30/04/2021: 11.30-13.30
MAY
Thursday 05/05/2021: 11.30-14.15
Friday 06/05/2021: 11.30-13.30
Thursday 22/05/2021: 11.30-14.15
Thursday 28/05/2021: 11.30-14.15
Friday 29/05/2021: 11.30-13.30
The following  measures will be strictly applied:
- one student at a time. Access to the room and time in the room will be limited and controlled. Maximum 4 people at one time in the room.
- wearing of mask is obligatory (masks will be available for Primary students if needed).
- hand sanitiser will be provided at the entrance and is compulsory.
Latest Videos from EURÊKA (10/02/2021)
Video EURÊKA July 2019 Fabiola
What can you find in EURÊKA?
In EURÊKA one finds clothing and sports equipment* lost by primary and secondary students at the Uccle site.
For valuables (watches, mobile phones, sunglasses, keys, wallets ...) or school material (books, notebooks, calculators ...) please check with the following persons:
For primary, Secretariat MAT/PRI (office ERASME S.0.02);
For secondary, Mr. Paulet (office: Plato, R232) - or whoever holds that office.
* Sports equipment (school T-shirts, navy blue shorts, gym shoes) without a readable name on them (and/or outside of a bag) are washed by volunteers and are sold second-hand at a price of 2 EUR, obviously with possibility to exchange... The money collected is used for the functioning of Eurêka: primarily for the purchase of printer cartridges to print the weekly lists and the purchase of anti-moisture refills.
Where are we?
EURÊKA is located in the basement of the Erasmus building. You may access it via the "Castle" staircase (see map below).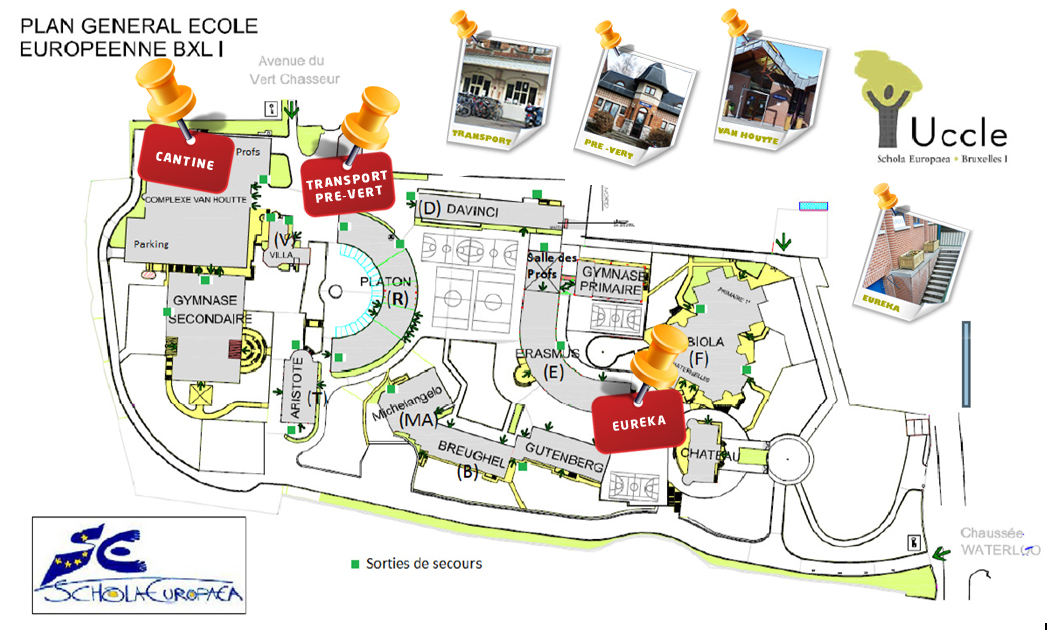 EURÊKA Collection Points 2020
And at Berkendael?
The lost objects at Berkendael are kept at the Berkendael porter's lodge for 6 months. The unnamed items are subsequently moved to the EURÊKA site at Uccle.
How EURÊKA Works
Collection of Articles
Every Wednesday a group of voluntary parents collect articles of clothing and belongings in twelve strategic places around the school, before they are brought to the EURÊKA room. They are then counted, sorted and hung.
Sorting
Named articles of clothing etc are written on a list, which is updated on a weekly basis. They are checked against a monthly inventory and they are sorted in alphabetical order in the EURÊKA room. Items which are not named are sorted by the month in which they are found on the clothes hangers in the EURÊKA room.
Volunteers – helping the pupils find their lost items
Volunteers are on hand to help pupils find their lost clothing and belongings when they come to EURÊKA .
Publication of « The List »
The APEEE sends a list of named clothing to parents, by email, according to the inventory, approximately once a month.
Retention of Items
Unmarked items are held by EURÊKA for a period of six months.
Named items are held for approximately one year.
Due to limited storage, items which are not claimed within that time limit, all unclaimed items are donated to charitable organizations.
Donations
To diversify the number of charities who can benefit from these unclaimed items, all suggestions for charitable organisations interested in children's clothing are welcome.
Advice to Parents
Please label with indelible ink or iron-on labels all sports items, bags, coats, hats, scarves, gloves, jumpers and jackets ; everything that a child will take off during their lunchtime breaks. Labels can become illegible after a number of washes, thus making it impossible for the item to be identified and returned.
Please label the items in an easily found place – collar, belt, inside pocket etc…
Please ask your child to look for their items in THEIR classrooms (the children change classrooms often, even in primary), in the canteen, in the swimming pool, and especially ask them to ask their bus drivers (including those who drive on Fridays) who keep these items in their bus (they do not only work for our school).
Tell your children to look after their belongings, especially in Secondary School. The lockers can be also used for this.
Encourage your children to come to the EURÊKA building often; if they have not found their belonging on their first visit, it may be because the items have not yet been sorted or found by the EURÊKA volunteers.
If your child is a little apprehensive about asking for help from the volunteers, don't hesitate to write a note (English or French), describing the lost item, and ask your child to give this to the EURÊKA volunteers, who will do their best to help.
WANTED: Volunteers!
We are still looking for volunteers: two hours on Thursday morning a month can be enough to offer a valuable service.
This service is run on a voluntary basis by parents.
The school's involvement is limited to the granting of a room.
Volunteers' limited availability is understood and respected.
Volunteers are not responsible for the lost and found items.
If you have some time to devote, please contact us at: eureka@uccleparents.org
Some Figures
Approximately 60 items are collectly weekly, more than 2,600 items were collected between April 2012 and March 2013 !!!
Less than 20% of recovered items are named.
About 4 out of 10 items collected by EURÊKA are returned to their owners – this is not a good rate of return.
A team of 20 parents volunteer for 8 periods of 2 hours for the collection of items around the school, manning the EURÊKA room or compiling the inventory. The Thursday EURÊKA hours are manned by at least two parents.