Several working groups of the APEEE meet regularly:

The APEEE Working Groups Need Volounteers!

(18/10/2018)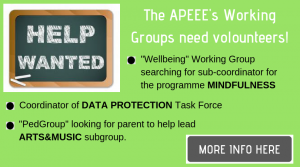 The APEEE is looking for parents volunteers for its Working Groups on Wellbeing and Pedagogy, as well as for Coordination of the Data Protection Task Force.  Interested?  Please get in touch for further information.
Wellbeing Working Group searching for sub-coordinator for the programme MINDFULNESS. Tasks involved: support the work of the mindfulness instructors; prepare for site visits and provide logistical support; organise teacher participation and feedback. Time: 3-5 hours/week in peak periods at beginning and end of year; otherwise maximum 1-2 hours. Ideally, applicants will have some background in Mindfulness or other child well-being programmes and/or in organising workshops and events.
PedGroup looking for parents interested in the PROTECTION OF DATA, especially of our kids' data, willing to lead or contribute to a dedicated Working Group. Tasks involved: understand the current data protection context and stay up-to-date with its evolution, elaborate and implement actions to ensure adequate data protection together with School and INTERPARENTS actors, react promptly to new APEEE questions related to data protection. Time: according to availability!
PedGroup looking for parent interested in Arts and Arts Education to help lead ARTS&MUSIC subgroup.  Tasks involved: provide support to art-based school programmes/projects; help formulate APEEE/INTERPARENTS position on art curriculum questions; help field and evaluate funding applications related to art and art education. Time: 2 hours/week. Ideal candidate will have high level of experience in art or art education.